George F. Walker

Director of Corporate Development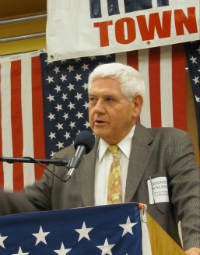 203-798-9345 (O)
203-733-0692 (M)
22 Lower Lake Road
Danbury CT. 06811
George@AdvanatageRealtyInc.com
Download George's vCard
George F. Walker has been working in real estate since 1975. In his years of experience as a Real Estate executive involved in the marketing, brokering and developing properties throughout the United States. Currently, George is Director of Corporate Development for Advantage Realty Commercial providing professional brokerage representation for clients buying, selling, leasing or developing. Previously George developed build to suit programs, managed and implemented the marketing and leasing for the 325 acre multi-use Berkshire Corporate Park located in Northern Fairfield County.
Prior to that George managed, leased and re-developed new and rehabilitated properties for American Trading Real Estate in the Northeast portion of the U.S. including a 160 acre office, business and technical park in Monroe/Trumbull, CT (Trefoil Park) and a 45 acre distribution and industrial park in Orangetown, NY (Interstate Distribution Center).
Responsible for managing the development, marketing and operations of major multi-tenant properties for Xerox Corporation in several urban areas throughout the U.S. Real estate developments included 1.7 million S.F. of properties and parking structures for over 5,000 vehicles. Total capital assets were $205 million.
George was also responsible for managing property operations for all NYC, NY and Connecticut properties owned and leased by Xerox Corporation. This included the Corporate Headquarters in Stamford, CT. He managed the development and construction of various projects for Xerox Corporation on numerous properties throughout the U. S. Development of these projects included high rise office buildings, parking structures, new sites, manufacturing facilities, distribution centers, and their research facilities.
Professional / Community affiliations
Elected as Selectman, Town of Brookfield, CT ( term 2011-2013)
Board of Directors- Housatonic Valley Economic Development Partnership (2000-2003)
Board of Directors, Chairman – Regional YMCA of Western Connecticut (1998-2007)
Board of Trustees, Chairman-Regional YMCA of western CT (2007-2009)
Executive Board- Friends of the Lake (Lake Lillinonah)
Board of Directors- CT Federation of Lakes (since 2008)
Advisory Board-Housatonic River Trail (2000-2004)
Board of Finance- Town of Brookfield, CT (1999-2005)
Advisory Board-CT Coastal Corridor-Transportation Strategy Board (1999-2009)
Transportation Accountability Board, State of CT (1985, 1986 Appointed by Governor)
National Association of Industrial and Office Parks (NAIOP)-Past President CT Chapter
Education
B.S. Management, Rochester Institute of Technology
A.A.S.Construction Management, S.U.N.Y.Delhi Tech
Rensselaer Polytechnic Institute, Civil Eng.